Take the time to observe this wonderful story and painting sent to us from John Joseph Tully III. Happy #FeelGoodFriday!

"Every year, we are fortunate enough to experience the "5th golf major", at TPC Sawgrass. For quite a number of years now, my grandson Jack Flood would go to the Wednesday practice round and get as many of the pros to sign his tourney greens flag. He has quite a collection! This past year, Jack took to passing down this new tradition by introducing his younger brother Declan to the same tradition. This picture was taken by their mom (and my daughter) as they were leaving at the days end. I immediately fell in love with it and decided to memorialize it with a painting. I named it "Big Brother"

In the spirit of THE PLAYERS Championship, I thought I would share this painting that my Father-in-law just completed in honor of golf and his grandsons. We live here in Ponte Vedra Beach, and are so grateful for what the PGA TOUR stands for. Hope you enjoy." ... See MoreSee Less
Great painting and greater story! We camp out at 17 every year, as it's a difficult course to walk as you age! Love the story!
Just beautiful! Thank you so much for sharing!
Thanks Dave, the move happened just in time....
Beautiful picture.
That is so cool!!
That is just awesome!
So wonderful! Thanks for sharing!
Perfectly captures the fun and traditions the kids have every year at The Players! 

Jeff Creamer Fine Art
Wow! Good thing you just moved to St. Augustine! So close to the PGA headquarters
That is awesome........ 👌 👌 👌 👌
So cool Melissa Creamer Flood! Beautiful painting!
Load more
Happy Flag Day from the TPC Network! ⛳️🇺🇸

#FlagDay #PlayTPC #FlagFriday #FridayFeeling #MilitaryAppreciation
Twitter feed video.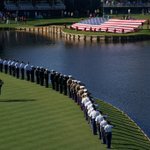 Strong showing by the team this morning on Dye's Valley @TPCSawgrass
Twitter feed video.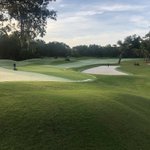 What a day @TPCSawgrass yesterday course is unbelievable, and the 17th is as hard as some players make it look 😂🏌️‍♂️⛳️
Lucky to get a late afternoon 18 in at @tpcsawgrass, such a great venue 😍🏌️‍♂️🏌🏻‍♀️#theplayers
Load More...
Course Flyover
THE PLAYERS Stadium Course
THE PLAYERS Stadium Course – Flyover